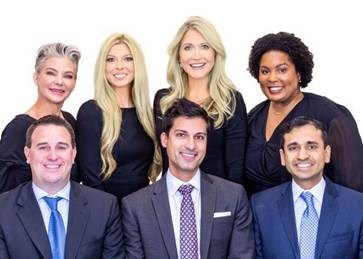 Updated September 2020
Dear Patients,
We hope and pray that everyone has been staying healthy, happy, and safe during these challenging times. We want you to know that the safety of our patients and staff is extremely important to us, and we are making every effort to follow the best guidelines to keep everyone safe. After reviewing the most up-to-date information and consulting with several other medical colleagues and small business owners, we have decided on the following protocols:
PRIOR TO YOUR VISIT:
· PLEASE CALL TO RESCHEDULE YOUR APPOINTMENT if you have a cough, fever, headache, the new loss of taste or smell, repeated shaking with chills, sore throat, shortness of breath, muscle pain, known or suspected exposure to COVID-19, a pending COVID-19 laboratory test, or have not been practicing safe social distancing in the past two weeks.
· PAPERWORK: In order to reduce paper exchange and crowding in our lobby, we strongly encourage you to COMPLETE ALL NECESSARY PAPERWORK BEFORE ARRIVING, which is available on our website, https://legacydermatology.com/resources-for-patients. Please PRINT and COMPLETE the forms and bring them with you to your visit, or PREFERABLY, SCAN and EMAIL them to us at our privacy-protected email address, [email protected].
NEW PATIENTS:

Please fill out all forms on the patient resources page ("Patient Intake Forms," "Medical Record Release," "Our Office Policy," "Financial Information Sheet," and "Our Non-Discriminatory Policy").
ESTABLISHED PATIENTS who have NOT BEEN SEEN IN 2020:

Please complete Page One (only) of the "Patient Intake Form." If you have NEW INSURANCE, please scan your new card (front and back) and email it to

[email protected]

.
COMPANIONS:

To limit crowding, we kindly request that ONLY THE PATIENT (and guardian/parent when necessary) come to the appointment. We also request that you please do not bring children to the appointment unless they are being seen by a provider.
1. Please bring YOUR OWN PEN when possible.
2. If available, please bring YOUR OWN PERSONAL HAND SANITIZER for use in our lobby and common areas, if desired.
3. Please prepare to come to your appointment with your own FACE COVERING/MASK, which you have likely been using in your daily lives when out in public.
4. Please bring something to read/watch while you wait (see below).
UPON ARRIVAL:
· Please put on your face mask, enter the building and CHECK IN WITH THE FRONT DESK, at which time your temperature will be taken and you will be asked to fill out a COVID-19 symptom screening questionnaire (using your own pen if possible!).
· You will then be asked to WAIT IN YOUR CAR instead of our waiting room until you receive a phone call that we are ready to bring you back into the clinic.
· While in the office, please practice safe social distancing (staying 6 feet apart) from other patients whenever possible. Please note that for social distancing purposes, we have not only reduced our patient volume but also have modified our patient flow policies, such as limiting the check-out area to one patient at a time to avoid line formation. We also ask that you keep your face mask on unless requested to remove by your provider.
CLEANLINESS AND SAFETY: Rest assured that we screen every member of our staff for symptoms of COVID-19 and will continue to do so on an ongoing basis. Furthermore, for your safety as well as ours, we will continue to follow intensified cleanliness protocols as recommended by the Texas Medical Board. When it comes to our staff, we are very strict about immediately sending home any member of our staff at the first sign of any symptoms that could possibly be COVID-related, and we do not allow for their return to work until a negative COVID test has been proven.
With this in mind, please know that at on any given day, we might be trying to manage our clinic flow with fewer staff members than usual. With all this in mind, we kindly ask that you please give us some grace as we do our very best to provide our same level of excellent care while also keeping everyone safe. We apologize in advance for any prolongation of wait times you might experience related to COVID, and we ask that you bring something to read or watch to keep yourself entertained. Thank you in advance for your understanding!
OPTION FOR TELEMEDICINE VISITS: For those who wish to avoid an in-person visit, we would be happy to offer you a telemedicine visit if possible. Call our office at (972)469-2626, and we will get you scheduled appropriately. Extended hours for our patients with specific needs are available on a case-by-case basis. If this is something you would like to inquire about, please EMAIL frontdesk@legacydermatology.com, and we'll call you to discuss your needs and accommodations.
We know that this requires more effort on your part as patients, but we are hopeful that you can appreciate and understand the measures we are taking during this early phase of reopening. We truly appreciate your cooperation in our efforts towards keeping our community safe and healthy. We cannot wait to get back to doing what we do best—caring for the health and skincare needs of our beautiful community.
Sincerely,
Dr. Jennifer Dharamsi
Owner & Founder