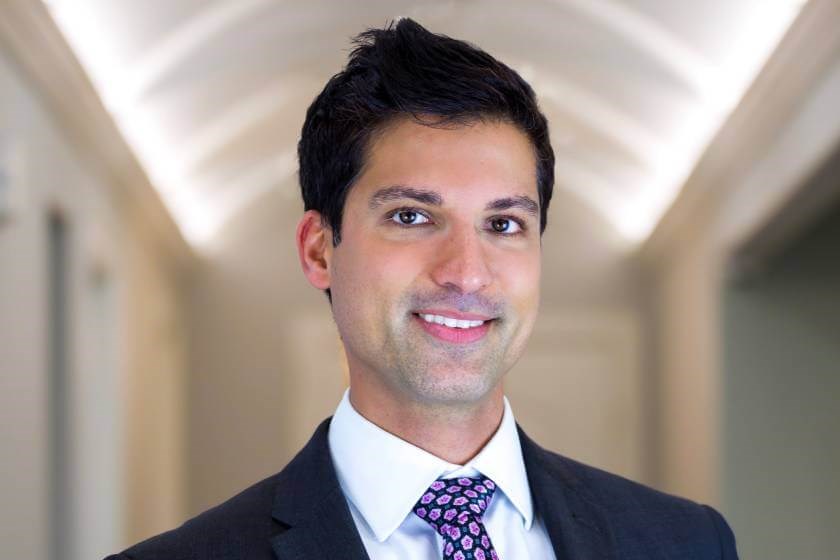 Dr. Farid Dharamsi (aka "Dr. Farid") is a highly-trained aesthetic physician with a special interest in helping men and women alike age more gracefully with the help of advanced injectable procedures, lasers, and other devices.
Dr. Farid has received extensive advanced training in fillers, neurotoxins, lasers, chemical peels, skin tightening, and body sculpting. He is continually in the pursuit of acquiring new skills, staying on the front line of aesthetic medicine.
After graduating high school as co-salutatorian with his identical twin brother, Dr. Farid went on to complete his undergraduate in Nashville, TN at Vanderbilt University. There, he graduated Magna Cum Laude while obtaining an Honors Degree in Molecular and Cellular Biology with a minor in Chemistry.
From Nashville, Dr. Farid moved to Washington, D.C. to complete medical school at the George Washington University. Next, he went on to complete his residency in Emergency Medicine at the University of Texas Southwestern in Dallas in 2012.
Since residency, Dr. Farid has worked in several emergency rooms spanning the DFW metroplex while simultaneously expanding his knowledge, training, and experience in laser and aesthetic medicine. He regularly attends cosmetic conferences and advanced trainings to provide the best and most effective treatment for his patients. Dr. Farid has been an integral player in the vision and co-founding of Legacy Dermatology & Restoration Center and is excited to be part of the "Legacy Family".
Dr. Farid has several publications in the fields of orthopedics, emergency medicine, and dermatology.
When not practicing medicine, Dr. Farid enjoys going to the gym and spending time with his family. He also has special interests in coaching for his kids' sports, scuba diving, reading, travel, skiing, and water sports. He and his wife have a special place in their hearts for giving back to the community especially in the areas of disabled and/or abused children. He resides in Frisco, TX with his wife Dr. Jennifer Dharamsi, two children, and dog named Sunday.
Reviews
"Fantastic experience today with Dr. Farid. Timely, informative and super easy treatment. Thank you"
B.H.
Google
"10/2023 update - I saw Patrice, PA, in July for my annual skin check. I showed up for the appointment and to my chagrin had accidentally canceled it vs confirming. They fit me in and Patrice took a biopsy that ended up being malignant melanoma that required referral to an Oncologist. I travel a lot and if they wouldn't have fit me in, I wouldn't have rescheduled for a long time. That aggressive cancer would have just been metastasizing in my body.... They likely saved my life, not being dramatic at all!! I have since gone through the cancer excision and lymph node testing and am thankful to be cancer free. Can't recommend these professionals enough! 10/2021 update - saw Dr. Dharamsi today because I needed more specialist attention for removal of facial mole(s). Always a great experience! Update to previous review - I visited during the peak of COVID in NTX and felt very safe with the protocol in place. Saw Patrice and Dr. Farid and had a great experience, yet again. Will be back! I've been a patient at Legacy Dermatology, really since they first opened. I see Patrice for my annual skin wellness check, and Dr. Farid for cosmetic. The offices are beautifully decorated and clean, the staff professional and kind. I've literally never interacted with someone who isn't nice. They also offer high quality skin care products, including great sunscreen. Dr. Farid does a great job with cosmetic injections - he's gentle and has a knack to not cause bruising. His approach achieves very natural results that don't make you look like you've had "work done". They have recently invested in expanding their business and now have Legacy Restoration, which is dedicated to cosmetic. Same office park, same swanky decor & great care. I highly recommend choosing Legacy for your skin and beauty needs."
L.D.
Google
"Dr Jennifer Dharamsi is fantastic, very knowledgeable, and her attention to detail and listening are great, highly recommended her. She helped me with a skin condition other dermatologists were not able to figure out the information she gave me helped me make changes in my diet that, in combination with a cream, finally resolved the issue."
R.F.
Google
"What a friendly atmosphere! From the wonderful staff like Dr Dharamsi to Mariana helping me with scheduling! The wait room furniture is comfortable! The Ipad you use to sign and put your family history is super easy to use! Overall was a great experience!"
E.9.
Google
"I have always had a great experience. I have been coming to this office for over 5 years. I have been seen by Dr. Jennifer Dharamsi and I can say she is not only great at what she does but she is very friendly and open. I have also done cosmetic procedures with her staff and Dr. Farid. I have zero complaints and lots of compliments."
A.Z.
Google